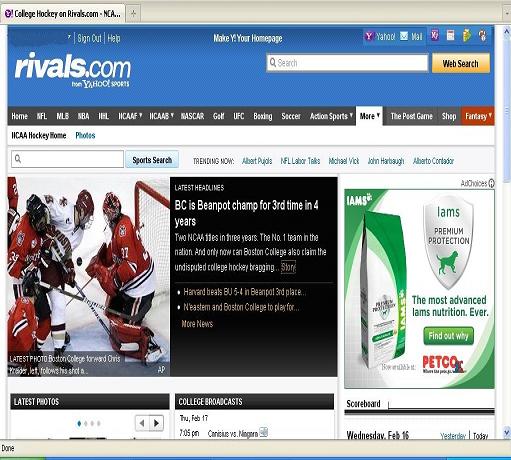 (Check it out for yourself)
When I first started up this site I was looking around for some quick access hockey pages to get up to the minute stories, interesting fluff pieces, and scores. Yahoo was one of the first I looked to since I frequent there often. Sure they have many faults, and uneven/redundent/slow reporting, but I don't see how you couldn't be happy with the amount of topics they cover over a wide variety of sports. Given that, there really is no excuse for how poor their college hockey coverage is.
If you can make out that story above it is about the annual Beanpot tourney in Boston. Which would be great story to have on the front page, if it didn't happen a few days ago...and wasn't written by the AP instead of a staff writer. There are never any scores up, no standings to speak of, and above all else you can't get to it unless you google it. I get it is college hockey. With only around 58 D1 teams it pales in comparison to college football and basketball. However, it is 58 top tier, big school teams that you are missing out on. Is it too much to put an intern up to the task, a bottom of the ladder lackey trying to make a name for themself, trying to get experience? Yahoo could say that the reason they don't support it is because there isn't enough nationwide support for it. i say that's a chicken and egg thing, it's not popular so you don't put much time towards it, maybe if you put time towards it you could make it popular.
It's time to write a formal letter...